"The first few times were tough but it gradually became easier. We had to follow a certain temperature, stirring speed and pressing method. There were many things to learn and we didn't have anyone to refer to in the country. When I first made mozzarella, it didn't turn into mozzarella but something else. It was crumbly and creamy. Then I found out it was actually called ricotta. So, I have this motto: 'There are no failures in cheese-making, only new names for cheese.'"
Chiang began helping Lim when he had a hard time making mozzarella and burrata because "his hands couldn't stand hot water. Then I fell in love with cheese-making. I like challenges and this craft is very challenging. It took me several months to master it", she shares.
D'Artisan Cheese offers more than 150 options, including dairy, vegan and Malaysian flavours. The hard, semi-hard and soft cheeses comprise ricotta, burrata, mozzarella, Asiago, cheddar, gouda, nasi lemak and kerabu, among others. The main ingredients to make them include natural cultures, vegetarian rennet, Himalayan salt and raw, unpasteurised fresh milk sourced from boutique farms across the country. In one month, the brand uses up to 3000 litres of milk in its cheese production. Vegans, meanwhile, can opt for cheese made from nut-based milks such as almond and cashew.
The process of producing cheese can take from days to months, depending on what you are making. Transforming milk into curds takes about seven hours and involves warming the milk and separating, cutting and stirring the curds. Stirring the curds at different times and speeds result in different types of cheese. The curds are then pressed overnight before they are soaked in salt water. After that, the ageing process begins.
In the first six months of the business, Chiang herself was handling D'Artisan Cheese's Facebook page, including uploading photos and taking orders. Things got out of hand when the brand received its first media coverage at end-2020. "Every day, we would receive more than 100 messages and I couldn't cope with it. It was stressful to take orders manually because it involved a lot of chit-chatting before people would buy. There were instances when I missed some orders too."
Thus, they decided to launch a website, allowing customers to directly place their orders and make payments on the platform. Customers could also easily fill in their information themselves, such as phone numbers and addresses.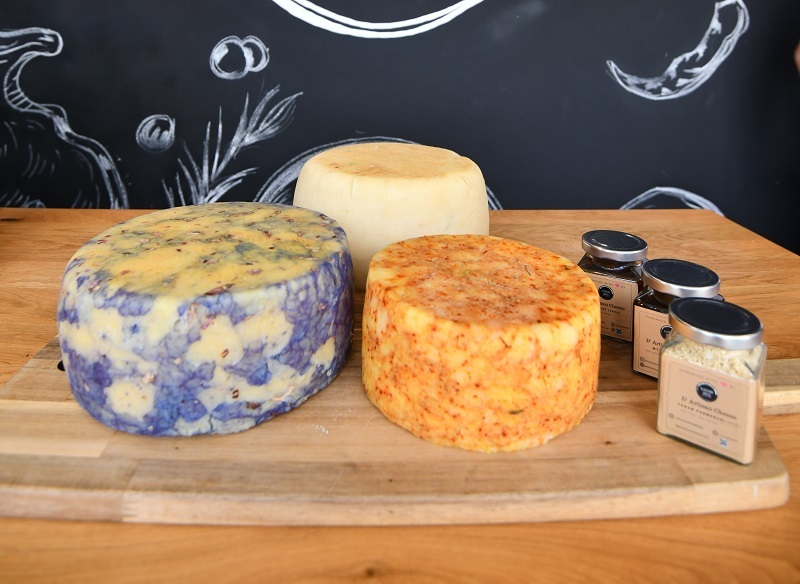 Having zero background in the food and beverage industry, Lim and Chiang found every stage of running the business challenging. "We had to juggle between taking care of two kids at home and building the brand in our kitchen. From sourcing milk and packaging to pricing our cheese, everything also we tak tahu," says Chiang.
"In European countries, the price of milk is very low, between 50 cents and US$1 per litre. However, in Malaysia, you're looking at RM10 to RM12 per litre. We can make only 6 to 8kg of cheese from 100 litres of milk. We also have to take into account the cost of electricity. A friend told us not to follow the market price. 'Your price is your price,' he said," adds Lim.
D'Artisan Cheese has a shop in Bandar Sri Damansara, Petaling Jaya that is divided into two spaces — the back area is used for production while the front is for retail. Its products are also available at Village Pantry in Bangsar Village 1, Kuala Lumpur. The brand participates in pop-up bazaars once or twice a month across the Klang Valley.
Among the businesses it has collaborated with are The Ritz-Carlton, Langkawi and Dou Dou Bake, a local bakery in PJ. Both partners use the brand's products in their respective offerings. "The chefs appreciate our Truly Malaysian series because it is something unique they can play with and serve their customers," says Chiang.
On the name of the business, Lim says, "Since our products are handmade, we decided to call it Artisan Cheese. Then, we added the D' to the front to make it more Malaysian [style]. It is also my initial."
This article first appeared on Jan 9, 2023 in The Edge Malaysia.